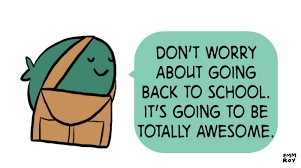 I can feel the energy as summer comes to a close. Teachers are preparing great lessons and beautiful learning spaces. Our team has their wheels turning about how we can make this year the best year yet!
Needless to say, WE ARE EXCITED TO HAVE OUR YOUNG LEADERS BACK!
We are loving the Summer Reading Challenge Pictures. We hope you spend the remainder of your summer days doing what you love (and reading what you love!).
A few reminders:
School starts at 8:53 on Tuesday, Sept 5th and concludes at 3:37. 
The Daily Bell Schedule is: 
Playground Supervision starts at 8:38 am (this is the earliest any student should arrive at school)

School Begins at 8:53

Morning Recess - 10:30-10:45

 Lunch 11:45 - 12:30

Lunch Recess - 12:30-12:45

Afternoon Recess - 2:15-2:30

School Ends at 3:37

Bus Pick-ups and Drop Off times will be mailed to your home from the School Division. We ask parents/guardians to arrange to pick their children up outdoors on the South side yard. 
All students will meet the staff on the playground starting at 8:38 and will be directed to their classes at 8:53. New families are welcome to come inside the front door on 13th to register!

School Supply Lists can be found under the Supply List Link on the Parents menu on our website.

All school fees will be collected using School Cash. Sign up now using the link under the Parents menu.

Please subscribe for 'School News' by scrolling to the bottom of the page. Look for the Red Subscribe Button. You will receive a notification when any news is posted.

Join us for "Unpack Your Backpack Night" for K-8 students and our Playground Grand Opening Picnic from 4:30 - 6:00 on August 31st. Enter through the main entrance on 13th avenue. Your child will meet their teacher, can tour the school and unpack their supplies. This evening will also mark the grand opening of our Playground. Bring a blanket and a picnic meal for your family. The SCC is providing Juice, Fruit, and Veggies. There will be a Playground Ribbon Cutting Ceremony at 5:45.

Tweet your favorite Summer Reading Selfie to @Connaughtcomets #ECCSReads

New Families (all families) are invited to our New School Orientation on Sept 7th.
Finally, be awesome, do awesome and bring your awesome!
This year is going to ROCK!
Connaught Comets "Community of Excellence"