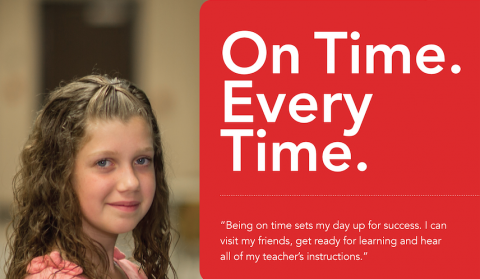 Smooth transition period - students who arrive at school with time to spare have the opportunity to settle into the classroom, prepare their materials and focus their minds on the lessons to come.
Important information – a typical school day starts with announcements and introductions to new lessons and concepts. Students who show up late may miss out on important details and be unprepared for future class events or key learning concepts.
Develops long-term positive habits – when students show up on time to school every day, they develop the habit of being punctual with important commitments. 
Self-esteem - arriving on time every day makes children feel good about themselves.
Arriving on time for school ensures that your child doesn't miss out on the important learning activities that happen early in the day when they are most alert. Set your child up for success and make certain he/she arrives to school  On Time. Every Time.
Please take a moment to view videos featuring local community Leaders as they discuss the importance of everyone focusing on school attendance.
Attendance Matters

Click to view the full poster:    On Time. Every Time.