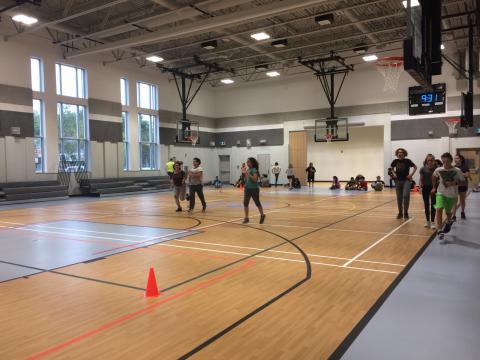 At École Connaught Community School we offer a variety of extra-curricular athletic programs. 
Cross-Country Running – Students in grades 4-8 train three times a week at lunch in order to prepare for two cross-country races.  The younger students race 1.2km while the older students race 2km.  The season is in September and early October.  This year's coaches are Mme Fox, Mr. Black, and Mr. Sweeney.
Volleyball – Students in grade 6-8 compete on a co-ed volleyball team coached by Mme Dryburgh, Ms. Ward, and Ms. Weber.  The season run September through November.
 
Basketball – Students in grade 6-8 compete on a girls or boys team.  The season begins in January and runs through March.
 
Soccer – Students in grade 5-8 compete in indoor soccer tournaments, coached by Mr. Mitchell and Mme Fox.
 
Track and Field – All students in grade 4-8 compete in a school wide track meet, with the top qualifiers compete against other schools at Douglas Park.  Track and Field events are learned and practice in phys-ed class, and the team that competes at Douglas Park is coached by a number of teachers.  Track and Field takes place in May and June.
 
Jumpstart – The Jumpstart program helps students cover some of the costs of organized sports and recreation activity.  Please talk to Mr. Sweeney if you are interested in applying for a Jumpstart grant.
Basketball –  December to March/April. Details to follow.
Badminton – TBA